For rasping the Exterior Insulation Finish Systems ("EIFS") foam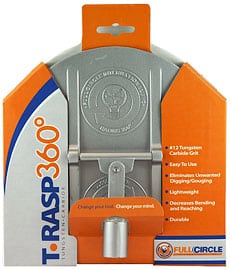 #12 Tungsten Carbide Grit


Rates just below a diamond on Mohs hardness scale.

Easy to Use


Attaches to any extension pole so you can rasp the hard to reach area with ease.

Lightweight Aluminum Plate


The T-RASP 360° is made with a light weight aluminum plate that weighs only 1 pound.
Ergonomic Design


Decreases the amount of bending and reaching associated with hand held rasps.

Non-Destructive Round Design


The T-RASP 360°'s round design gives you a full range of motion and eliminates the problem of corners digging into the EPS.